Wow, was it as good for you as it was for me? Putting on your first completed garment that is! Of course I'm not counting the flirtation with my first knitted hat, nor the shrug I made. Were they exciting? Yes! But the feel of pulling this piece, with all the times and places and stories I had been knitted into it, over my head and having it fit like it was made for me, (what a coincidence, har har) is exhilerating.
I was jumping up and down, running from one mirror to the next to fancy my very first knitted top!
I love the shrug I made, using the one skein wonder pattern of Madam Glampyre, however because it is not a piece worn on it's own, like you don't just wear a hat out and nothing else, it isn't the same.
So this beautiful and brilliant pattern by Madam Grumperina from Magknits, is officially my first knitted garment and I'm so thrilled. I wore it all day yesterday and havn't blocked it yet. But I threw it on this AM; it's sunny and I had a camera operator besides myself.
With out further ado, here are some FO, off the needle pixs! Enjoy, I'm so proud of my little baby!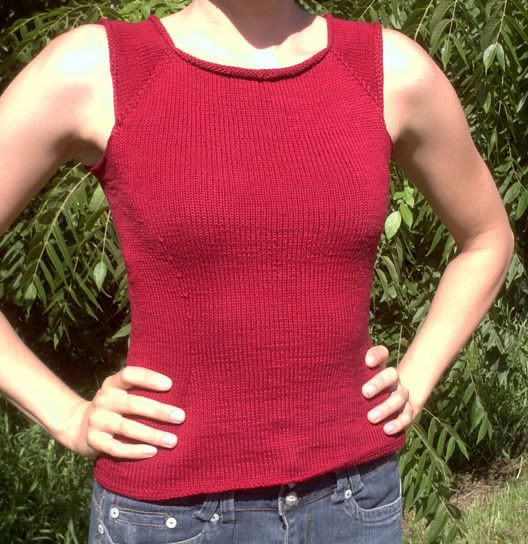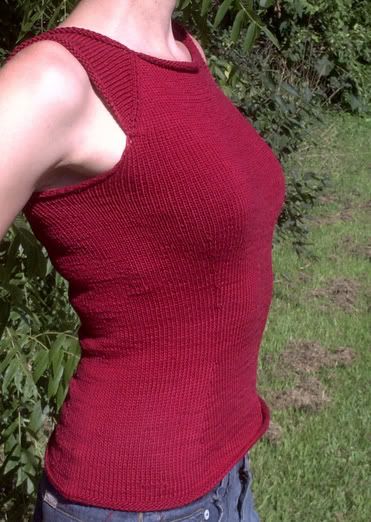 And finally...(excuse the squinty face... and bed head)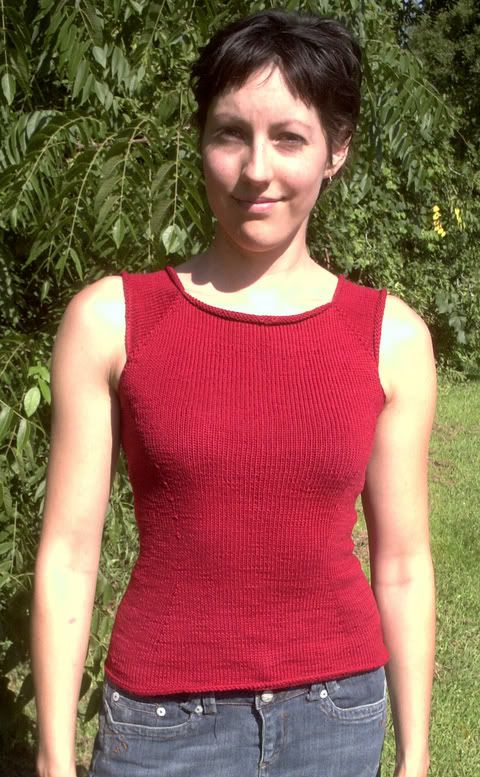 This piece came out so well, and I just learned to knit last fall! Whoo hoo! Yeeeeah! The only thing I would do differently next time, oh yes, there will be another Picovoli in my queue one day, is put a little more ease in the chest area and a little less at the hips. I also used 100% cotton, and it is a strange creature when one is used to wool. I like it though, and we got along great!
You know, I might add that the shaping in this top is so delicous to my eyes! Symetrical, flowing and flattering! Brilliant, I say!